Welcome to the Grand Canal Square Branch!
It's 8pm in central Dublin. In one corner of the room volunteers from a national charity are discussing how best to raise funds for their cause, at a long table children are learning to code and in the centre of the room a speaker is presenting some of the latest breakthroughs in medical technology to a group of entrepreneurs. It's quite a mix of activities but even more extraordinary, perhaps, is the location – it's all happening in a bank.
Bank of Ireland's Grand Canal Square branch is home to a wide range of different communities – local residents, start-ups, small businesses and charities – providing a place to work, meet and support each other.
'Best Branch Strategy' Award
The branch's approach was recently recognised when the Bank won 'Best Branch Strategy' at the Retail Banking Awards 2016. It has work spaces, meeting rooms, conference areas and an event space available to all. It's all provided free of charge. And you don't need to be a Bank of Ireland customer to come along and use the facilities.
Work spaces, meeting rooms, conference areas and event space available to all
"Our whole family has used this place for the past year. It's been incredibly positive and great fun."
Take the Crawford family. Father, Mick Crawford began using the Workbench facility as a place to work alongside other entrepreneurs and start-ups using the WiFi and boosted by the coffee. While he was in the branch, Mick heard about the Coder Dojo workshops we host teaching the basics of coding to young people and brought his son Eli along one evening, to see what he could learn. Bridal couturier, Ro Molloy, was the third member of the family to use the branch when she exhibited her wedding dresses in the window as part of our 'Show your business' initiative where we invite local businesses to showcase what they have to offer and connect with potential customers.
"The Bank of Ireland has been really good to us hosting our non-profit activities."
Hosted over 160 events in 2015
The branch team hosted over 160 events in 2015, many of which were for charities and community groups who, on a tight or non-existent budget, would otherwise struggle to find a state-of-the-art facility in the city centre. Organisations using the branch space for events include the local Residents' Association which was launched in the branch and Irish Cancer Society research team which used the branch for brainstorming ideas.
"It's not just a hot desk space where you come in to work it's the community they've created in here."
The team at the branch strongly support start-ups and entrepreneurs to get make their ideas a reality. Among many events, they hosted a 'speed networking' event for local businesses eager to see if there were ways in which they could work together, a two-day 'Hackathon' for innovators and sessions for Fintech start-ups to deliver short pitches to sharpen up their business ideas.
"Grand Canal supports CD&I to encourage Enterprise & Entrepreneurship to flourish every day (and evening)." – Garvan Callan, Director Customer Digital & Innovation
Supportive atmosphere
But it's the supportive atmosphere created in the branch which many people say they love most. That means support from the bank, of course, but, just as importantly, from the people just like them that they meet when they walk into the branch. People who can tell them how they solved a specific neighbourhood, business, coding or fundraising challenge that otherwise might have kept them stuck for months and lower their confidence. Now they feel there's a place they can be sure of getting support.
Communities only thrive if we all play an active role in them. Grand Canal Square might just be the way in which organisations like banks can play an active role in bringing local people, good causes and businesses together for their mutual benefit.
Check out the Grand Canal Square Workbench in action: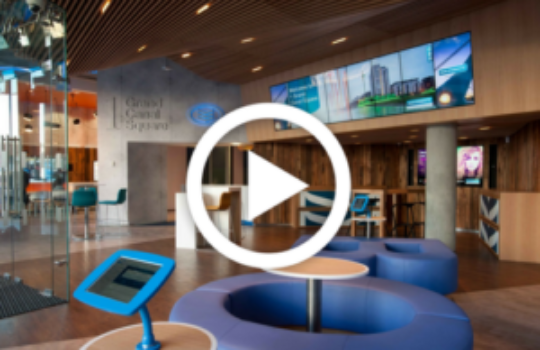 Get in touch:

Arrange a meeting or event
The Grand Canal Square team

Morgan O Regan – branch manager

Orla Whelan – sales and service manager

Warren Keegan & Emma Carthy -customer advisers

Daniel Farrell & Cliona Anderson – welcome advisers

Maria Quinn – mortgage adviser

Keith Murphy – business adviser

Gareth Dargle – premier adviser

Lounge area

Work area