Trinity Branch has moved to the Hamilton Building and that's not all! Now offering free work spaces, meeting rooms, conference areas and event space to all, we actively support the different needs of our local community.
Our Workbench area
Bank of Ireland Trinity is a start-up hub in the heart of Dublin city. It is available for all start-ups and businesses, and you don't have to be a Bank of Ireland customer.
We offer you somewhere to work from, with state-of-the-art facilities including hot desks and complimentary WiFi. Here you can get advice using a support structure that enables you to validate and grow your idea whilst learning from others. There is no need to book a space, just come on in – we look forward to welcoming you! There is also complimentary tea and coffee while you get to work.
Events
Our new events area is available to all (even if you don't bank with Bank of Ireland) – perfect for hosting events and seminars, whether it's related to the college and community, or a business seminar; showcasing your products or ideas to potential buyers. Start-ups and companies alike are welcome to host company training days, launch nights and meet-up groups in the space on a fully complimentary basis. We provide full event supports and mentoring from our Events Executive – including:
Digital invitations
Digital screen branding
Pre–promotion through our social media channels, website and ThinkBusiness.ie
Free catering
Events staff
Full use of our audio visual facilities
We will be running regular workshops and events for the college, business and community, so keep a check on our calendar to see what's on over the coming months.
Of course, we continue to offer a full banking service. We have a dedicated team who look after all your financial needs. Our Mortgage advisor is here to guide you on your mortgage journey. We also have a Business advisor on site to help you with all your business account needs. And our dedicated advisors are delighted to welcome you to discuss your financial needs.
Opening Hours
Self Service & Financial Advice
Monday – Friday: 9.00am – 6.00pm
Saturday: 9.00am – 1.00pm
Workbench & Events
Monday – Friday: 9.00am – 6.00pm
Saturday: 9.00am – 1.00pm
Events are available both during and outside office hours. Please get in touch to discuss times that suit you with our dedicated Event Executive.
Check out the your BOI Trinity branch in action: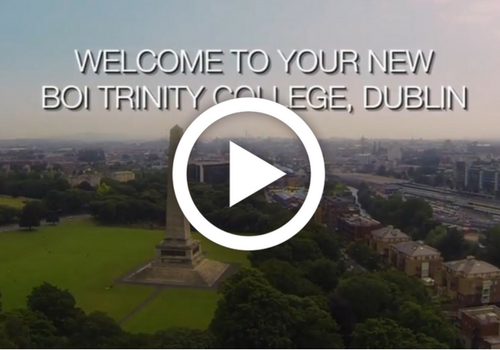 Get in touch:

Arrange a meeting or event
Meet the team

Heather McArdle – Branch Manager

Anne O'Reilly – Sales and Service Manager

Nicola Moran-Murray– Sales and Service Manager

Sean Kenny – Customer Advisor

Dean Kavanagh – Customer Advisor

John Brophy – Welcome Advisor

Derek Power – Welcome Advisor

Pauline Coffey – Mortgage Advisor

Thomas Buttle – Business Advisor

Vicky Samways – Events Executive

Learn about our startup account

Learn about our startup account here