Advice and Support
We know that starting a business can be challenging, so we are here to help you every step of the way.
Our Support to You
We will give you the advice and support you need to grow your business. With our Business Startup Package you get:
A new business startup phone support team
Access to over 100 Business Advisers, who can identify the right borrowing solutions for you
ThinkBusiness.ie, is a specially designed reference site for businesses that are starting,running or growing
A full financial review with a Bank of Ireland Insurance and Investments Manager
A free consultation with a Bank of Ireland Treasury Specialist
A team of sector specialists, recruited from industry, to bring real 'hands-on' expertise to Business Banking at Bank of Ireland. The team covers a diverse range of sectors including Agriculture, Health, Hospitality, Manufacturing, Motor, Property, Renewable Energy, Retail Convenience and Technology
A range of enterprise and business events helping you to connect to other businesses.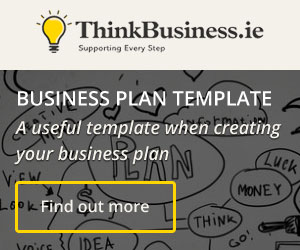 ThinkBusiness

Our new website, ThinkBusiness.ie, has been specially created for Irish business owners and managers who are seeking information, resources and help on a range of business topics.

ThinkBusiness.ie provides practical, actionable information and guidance on starting, growing and running a business. It offers guides, tools, templates, check lists and a wealth of other content tailored to meet the needs of Irish business owners and managers. It also showcases case studies, with insights, tips and advice from Irish entrepreneurs and business owners who have succeeded. For more information visit www.thinkbusiness.ie.

Before launching your business, check out our Top Tips for startups in ireland and why not subscribe to the ThinkBusiness Newsletter for more tips and guides on starting and growing your business.

Enterprise programme

At Bank of Ireland, we have a dedicated programme aimed at supporting your business. This includes initiatives such as National Enterprise Week, our Startup Awards and Enterprise Towns. Twice a year – in May and November – we hold National Enterprise Week which is designed to support the business community. This includes a broad range of free networking events as well as 'Show Your Business' which facilitates business to show their wares across our Branch network.

In 2017, over 100 Enterprise Town events will take place nationwide offering you the opportunity to network and find new customers, suppliers and partners through the Business & Community Expos. To learn more about our Enterprise programme, visit bankofireland.com/business

Facilities

Workbench

Located in Dublin, Galway, Cork and Limerick, the Bank of Ireland Workbenches offer state of the art facilities including hot desks, interactive screens, complementary wifi and events to Startups and entrepreneurs.

For more information on Workbenches at the following locations, please contact:

And for news and updates, follow us at: #BOIstartups

Startlab

Startlab, powered by Bank of Ireland, is an incubator programme (based in Eyre Square, Galway ) built to educate, connect and scale tech startups. Each program runs for a six month period where startups meet with key speakers, coaches and mentors to help grow and scale their company.To find out more or apply for future startlab programs, visit startlabhq.com