Features & Benefits
Our Business Startup Package has everything you need to get your new business up and running, including:
A Business Current Account with transaction and maintenance fees waived for 24 months.1
Dedicated Business Startup phone support line. Call 0818 200 413 today to find out more about our Business Startup package
Together with FCR Media we are offering our business Startup customers exclusive access to the FCR Launch Online package. This package includes a FREE custom built webpage for 12 months' plus a free .com domain registry and GoldenPages.ie listing worth €425! This offer is available to Bank of Ireland Business Startup customers only. You will receive your unique offer sign up code when you open your new Startup account.
Extended Enterprise programme aimed at supporting your business.
Access to our free tools, guides and online support through www.thinkbusiness.ie 
Access to workbenches located in Dublin, Cork, Limerick and Galway
…and much more
Click below for a copy of our Business Startup Brochure.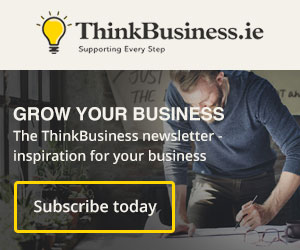 Everyday business banking needs

A Business Current Account with transaction and maintenance fees waived for 24 months.
Business Debit Card – all Business Debit Cards are contactless enabled. There is no additional charge for replacement ATM/debit cards for business startup customers.
Business Credit Card annual fee of €31 waived for one year. After year one, the annual €31 fee will apply. 2
365 online, mobile and tablet banking – bank whenever, wherever you want. With access to 365 online, customers can make online payments of up to €20,000 a day (suitable for those who require single user authorisation to use online banking).
No overdraft facility fee.
A range of business deposit options including instant access to business notice accounts and fixed term deposits over a variety of terms.

Funding

Business Loans

We understand that the right investment at the right time will drive every business forward.

So if you think its time for your business to borrow why not talk to us about our small business and agri loan?
To apply for a loan of up to €100,000, you can apply online www.bankofireland.com/onlineloans or call 1890 365 222 to find out more.

Lending terms and conditions apply, security may be required.

Asset Finance

Our Bank of Ireland Finance Direct facility allows you to arrange your asset finance requirements over the phone, for amounts up to €150,000. Find out more: www.bankofireland.com/assetfinance or through Bank of Ireland Finance Direct at 1850 291 929.


Ways to Bank

365 Online

365 online banking offers you a quick and easy way to transfer funds, pay bills and set up payments 24 hours a day.
If you are a small business customer (Agri, Sole Trader, Trading As) call 1890 365 500 and our dedicated activation team will have you set up in minutes.

Business On Line

With Business On Line you can do your banking when it suits you – even when you're on the move.

Two years free monthly subscriptions to Levels 1/2 of Business On Line, if you sign up on the day you open your Business Start Up account. To find out more about Business On Line please call 1850 264 265 or email electronic.banking@boi.com

BOI Payment Acceptance (BOIPA)

Everyone in business understands the growing importance of being able to accept card payments. Whatever business you're in, with BOI Payment Acceptance, you can:

Grow your business by accepting card payments
Provide an added payment choice for your customers
Have the facility to enable internet and telephone sales
Improve cash flow management with next day banking settlement to your account

Get help from BOIPA engineers who will install your terminal and provide training.

To apply for a BOIPA terminal, simply call in to your local Bank of Ireland branch. Alternatively, you can contact:
BOIPA directly or call 1800 806 770 or email sales@boipa.com


Payment Acceptance is provided by EVO Payments International GmbH trading as BOI Payment Acceptance. Underwriting Criteria, Terms and Conditions apply. EVO Payments International GmbH, trading as BOI Payment Acceptance is licenced by the Federal Financial Supervisory Authority BaFin (Bundesanstalt fur Finanzdienstleistungsaufsicht) in Germany and is regulated by the Central Bank of Ireland for conduct of business rules. EVO Payments International GmbH (trading as BOI Payment Acceptance) is not a member of the Bank of Ireland Group. BOI Payment Acceptance has entered into a marketing alliance with the Bank of Ireland. BOI and the Tree of Life logo are trademarks of The Governor and Company of the Bank of Ireland and are being used under licence by EVO Payments International GmbH, trading as BOI Payment Acceptance.

International Payments

Protecting you against foreign exchange risk

Our team of experienced professionals, based throughout the country, will work with you to ensure swift and safe execution of your international payments and receipts and provide competitive bespoke risk management solutions to protect against foreign currency fluctuation if required. Your payments and transactions can be executed swiftly and securely with our dealing team by phone or through or new online foreign exchange platform – FXPAY.

Supporting you to trade overseas

We have a full service Trade Finance team available to support you when you are trading on overseas markets via an extensive range of products and a team of documentary specialists. Our global network of correspondent banking relationships can be especially valuable to your business if you are trading in new markets.

Talk to our Global Markets, today, to learn how we can support you to grow internationally while managing your risks appropriately. For more information, please contact: fxnewbusiness@boi.com 01 609 4300


WARNING: THESE PRODUCTS CAN BE AFFECTED BY CHANGES IN CURRENCY EXCHANGE RATES